According to a study published in The American Journal of Preventive Medicine(1), headache symptoms, including migraines, were up 193 percent between 2009 and 2011. The study, conducted by Benjamin M. Althouse and others, compared the number of Google searches done pre- and post-recession and found an increase of 1.52 million queries for headache-related terms at the end of the recession, compared with the beginning. The number of queries had declined steadily in the three years prior to the recession (2006-2009).
Using Google searches to estimate the total number of headache and migraine sufferers is not an ideal method, as there is no guarantee that every headache and migraine sufferer will check with Google. But headaches and migraines are conditions that are both under-diagnosed by doctors, as many patients self-medicate with over-the-counter medications or simply wait for the symptoms to pass. Patients may neglect to mention these symptoms during a later visit to the doctor when the patient is feeling better. Considering this, the Google trend does seem to give a valuable insight into the overall trend. Plus, Google search results are much more readily available and less expensive to analyse than the old methods of conducting surveys and counting visits to hospitals and clinics.
As you can see from the graphs below, the trend for both headache symptoms including migraine (bottom graph) and ulcer symptoms (top graph) shows a clear and dramatic increase during the years hardest hit by the recession.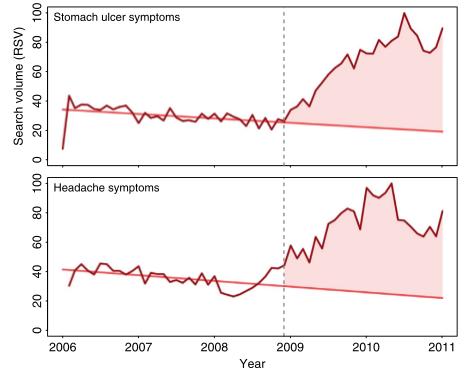 Althouse and his colleagues looked at the searches related to 383 medical conditions. The report, which was blocked from publication until just this month, gives greater details on the 100 conditions that increased most substantially during the recession. Ulcers and headaches were the two conditions with the greatest increase, 228% and 193% respectively.
How is (Economic) Stress Related to Headaches and Migraines
Money certainly doesn't buy happiness or health. Some folks live in abject poverty and manage to sidestep ulcers and headaches, while many of the world's wealthiest indeed suffer both of these conditions regularly.
But for some people, economic stress seems to put them on a downward spiral that starts with negative emotions, followed by declining lifestyle habits (especially diet and exercise). Dr. John W. Ayers, a research professor at San Diego State University, said "by the end of the great recession in 2011, queries were still substantially higher than before the recession… People were not getting better with the economy. People were potentially much sicker." (2) If lack of money could directly cause ulcers, headaches and migraines, then these conditions should have improved notably at the end of the great recession. This study clearly shows that economic stress is but one contributor to these and many other conditions.
Health problems most often result from an accumulation of stress and toxins. If you have lived in a toxic environment, or have eaten a toxic diet for a number of years, then you can expect that you have accumulated toxins in your body. Moving to a less toxic area and choosing less toxic food will certainly help you avoid worsening the accumulation, but this will not necessarily mean that the prior accumulation will disappear.
Similarly, stressful situations such as an economic recession may elicit an unhealthy physical/mental response in some people, leading to accumulated physical/mental tension. When the stressful situation passes, this does not automatically mean that the accumulated tension will dissipate. Unless one takes a specific action to eliminate the accumulated toxins and physical/mental tension, then the symptoms are likely to persist beyond the removal of the external causal factor.
How to Stay Healthy and Avoid Headaches and Migraines, Even During Stressful Times
My wellness-generating Lotus Lifestyle contains all of the essential lifestyle elements for getting and staying healthy. The 9-point system includes a proper diet, the right kind of exercise, and seven other key points. Following my system costs nothing, and will give you the best chance at eliminating and avoiding stress-and-lifestyle-related symptoms.
It is certainly wise to avoid whichever toxins and stressful situations that we reasonably can. But we must recognise that some toxins and some stressful situations are impossible to avoid, therefore we must adopt a healthy attitude and select a healthful response to such situations.
Whenever there is an uncomfortable situation, such as getting robbed, yelled at, accused, attacked, or when dealing with economic problems such as filing taxes, paying bills or getting fired, it is easy to become so absorbed in emotion that one fails to observe the physical consequence: often a tightening of certain muscles and of the myofascial tissues. Over time, our bodies adjust (unhealthily) to the repetitive stress. This results in a cumulative loss of "wiggliness", which upsets the normal energy flow that is required to keep all of our systems functioning healthfully.
The healthy response to stressful situations is to continue observing one's inner (physical/mental) state while also taking care of the external situation. If one is forced to react to the external situation immediately, as in the life-threatening situation of being attacked, then look inside as soon as the danger passes. When we look "inside" we can often notice that our heart rate has increased, our breath has become more shallow and some muscles have become tighter. We should remind ourselves to breathe deeply and slowly, and this will directly cause a normalisation of the heart rate and will leave us feeling much better overall. The tightening of the muscles must also be released, since tight muscles leads to a lack of wiggliness. And when we lose our wiggliness, conditions like headaches and anxiety "suddenly" appear.
If the anxious person fails to take the appropriate steps of breathing deeply and getting wiggly, he may instead seek instant gratification with a mad dash to the fridge or an urgent stop at a fast food restaurant for some . The anxious person is not thinking about long term health, which would involve selecting proper foods and lovingly preparing them without adding harmful chemicals. The anxious person is looking to stuff his face and his belly right this moment to divert his attention from the anxiety itself or from the stressful situation he is facing.
Sadly, it seems the world fully caters to the anxious customer… 24-hour drive-throughs and supermarkets provide so many choices, almost none of which are free of toxins, and almost all of which cause acidity. Stomach acidity directly causes ulcers and indirectly leads to a host of other physical and mental symptoms including anxiety and headaches.
Eating healthy food is the best way to avoid ingesting harmful chemicals. But even if you select the very healthiest option, an organic raw vegan diet (recipes here), that doesn't mean that you will never take in any toxin. There are plenty of toxins that will find their way into your body without your having eaten them, such as from the air that we breathe. So we still need to consider a regular detox regimen such as the daily use of a sauna, or perhaps a yearly (supervised) water fast.
References
American Journal of Preventive Medicine. Benjamin M. Althouse et al. 2014. View report.
New York Times. January 8, 2014. Hard Times and Headaches. Nicholas Bakalar.